How We Film Weddings
We feel very honoured to be a part of your big day. We appreciate that not everyone feels comfortable being filmed so it is our aim to film your wedding in the most discreet possible way.
We never get in the way or make couples or guests feel uncomfortable. We arrive at the venue /church two hours before the wedding ceremony and we start by filming the venue and the preparations of the day capturing all of the special moments that you have spent months organising!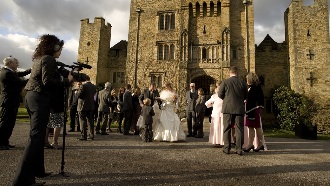 We can film the bride getting ready or we can concentrate on capturing the atmosphere at the venue/church. Generally we film the groom, guests and bride arriving and then the full ceremony, the photo shoot outside the church. We then will discreetly film your photoshoot and the drinks reception in a reportage style and these sections of the video are edited to music of your choice.
The speeches are filmed in full, if you choose our guest messages option then we will politely ask your guests to give messages to the camera. This is a wonderful way of recording the emotions and excitement of the day. We film the tossing of the bouquet and the cutting of the cake and of course the first dance.
We then transform the footage into a beautiful detailed wedding film.
---
See our wedding film videography packages Bronze, Sterling, Silver, Gold and Platinum
Wedding video gallery | How do we film a wedding? | Venues that recommend us
Wedding video testimonials | Camera equipment | Frequently asked questions