Testimonials
Lynne Meek, Styling Matters
"I was very excited to have Carol of Cut Above Productions on board to make a film of Rock The Runway Fashion Show as I had long admired her work. I was not disappointed! Carol is delightful to work with and is totally professional, organised and reliable. As well as that she is warm and approachable, she listens carefully to what is needed and then makes the most beautiful film. My co-organiser, Katy Beatton and myself are absolutely thrilled with the resulting video and it will serve as a wonderful reminder of a very special event".
---
Polly Taylor, Pickering Cancer Drop In Centre
"Dear Carol I cannot thank you enough for all of the time, love and support you gave us in putting together the beautiful story of Pickering on video. It is a powerful video and I am sure it will be very effective in raising awareness for the centre. Love and hugs Polly xxx"
---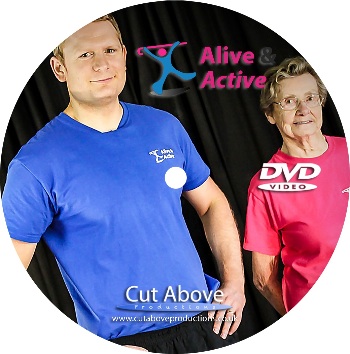 Simon Roll, Alive & Active
"We would certainly recommend Cut Above Productions to anyone needing videography services. They have been fast and thorough and a real pleasure to work with. We have been very impressed with their professionalism and attention to detail."
---
Eric Reimann
"I just wanted to let you know how happy I was with the service you provided at Cut Above Productions during the filming of my Josh Slug video, especially with the flexibility shown during the filming and editing process. Your professional, knowledgeable, yet friendly level that far exceeded my expectations was a delight. Nothing ever seems to be too much trouble for you, and I was made to feel unique. I hope I am successful in my funding for my rap video, and will definitely be interested in using your services again for things outside your normal wedding video mainstream business, which you are very skilled at."
---
Lucy, Aerodance TN12
"I chose Cut Above Productions to carry out the filming of our recent dance show as I have previously seen Carol's work and always been impressed with the quality of the end result on DVD. Carol made arrangements to see the theatre space so to decide the best possible positioning for the cameras. Carol's communication during the run up to the show was excellent and I felt calm knowing she was dealing with it and this meant that I could focus on the show and not have to worry about the filming-Carol had it all in hand.
The DVD is even better than I had expected, the quality is excellent and with 100 children dancing, you can still see each individual face along with fab shots of the whole stage. Parents have been really pleased and many of the children are onto their 10th time of watching the DVD with no sign of stopping soon!"
---
Andrew Sturgeon, Aerodance
"Just wanted to let you know that I uploaded the video that you produced for us onto our web site, two ladies watched it today and immediately enquired about classes for their kids."
---
Laura Lawton, Foxy Burlesque
"I used Cut Above Productions for the filming of my first DVD. Being new to it all it was great to work with people who could advise me and were professional, but at the same time completely put me at ease. I was also surprised at the speed at which the editing was done and ready for me to check. I never imagined it would be me holding the project up. The end result is a great DVD which I can't wait to get out into the market. I would definitely recommend Carol and if all goes well with sales I shall be using her again for a second DVD!"
---
Nikki Sturgeon, Aerodance Founder
"Carol from Cut Above Productions has filmed my dance shows for 3 years. As she is a keen dancer and is very musical, she has a creative flair that brings the production alive. Rather than the wide angle, rather faceless results I have been presented with in the past, we (and the parents) are thrilled with her filming every time. I would highly recommend her services as she is professional, reliable and listens to your individual requirements. I won't use anyone else!"
---
Gill Luis-Ravelo, Dance Maze
"We were delighted with the professional, yet friendly service we received from Carol Navis and Cut Above Productions. They filmed and produced a video of the highest quality for our corporate launch."
---
Brent Tanner MA, FRCS
"I have worked on three videos with Carol Navis and she has been inspirational, from taking the concept all the way through to the production and, she is an absolute stickler for perfection of timing and excellence"
---
Wendy Read, Managing Partner - HR Revolution
"Carol and her team have been amazing in helping HR Revolution hits the world of online video... their eye for detail, production and coaching has been nothing less than brilliant, from hand holding us through the art of talking to the camera through to tweaking and editing our scripts through to the final production and all their hard work to get us out on deadline and to really make the production work well. We are hoping that are next video will be a walk in the park now we are pro's!! Cut above Productions are exactly that... a cut above the rest! Brilliant!"
---
Mr Richard Hardingham
"Thank you so much for filming Tricia's party, we have watched the DVD a number of times now and are delighted with what you were able to produce - In the past we have tried to do something ourselves and it has never been successful whereas your filming just hit the spot. The interviews with guests are particularly enjoyable"
---
Andy O'Toole
"My website Golfwise has always worked well but my business is all about me and the service I can offer and I needed a way to show this and personalise the website further. Adding the video to the website gave me a way of communicating with my customers that was much more personal. Carol's professional advice and expert guidance on the content and presentation for the video was invaluable. The feedback I have had has been unbelievable and it has helped increased sales driven from the web by roughly 30%. She put me at ease during the filming process, has a great work ethic and worked exactly to my brief. I am over the moon with the final product and think the service Carol offers would be a valuable addition to any website"
---