Graham and Sophie were the most delightful couple to work with.  They had a very clear vision of what they wanted and expected on their day which is always a great help. They liked the fact that as well as filming the most important parts of the wedding day we also film all of the detail.
We created a bespoke package for them, myself and Paul filmed the wedding. I went to Sophie's house to film some of the bride preparations while Paul went to Little Horsted Church to start filming the set up shots of the church and groomsmen and guests arriving.
One of the most exciting things about Graham and Sophie's wedding was that Graham had arranged a horse and carriage, supplied by Darcy's Carriages,  to take Sophie to the church … How romantic!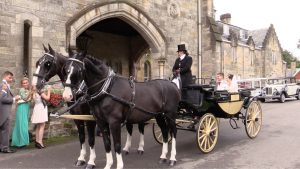 Sophie arrived looking utterly gorgeous, like a real princess, and her bridesmaids also looked stunning in their crimson dresses.  While I was filming the brides arrival Paul was filming inside the church… He caught a priceless moment where Graham and his best man were standing at the alter playing rock, paper scissors to ease the nerves.
The ceremony went like a dream, and after a few photographs outside the church it was off to The Ashdown Park Hotel and Country Club in Wych Cross, East Sussex for the reception.  The photographer was Peter Prior who was a pleasure to work with and after he conducted the group photo's we took the happy couple for a walk around the stunning grounds of the hotel.   The speeches were highly entertaining, one of us filmed the speakers whilst the other filmed reactions from the guests, we also used a discreet tiny camera on the top table to capture the reaction of the bride and groom… We did not miss a thing!
After the speeches we managed to get some messages from the guests which is always such a nice touch to the final wedding film, particularly as both sets of parents gave a lovely message.
We captured the cutting of the cake and then the first dance, it really was a lovely wedding.
Upon receiving the finished edited wedding film this was the feedback from Graham and Sophie that read "From the moment we met Carol to receiving the final DVD she has been incredibly attentive, caring and attentive giving us exactly what we wanted.  She gave us a bespoke package to suit our needs, captured everything we desired, presented the final disc perfectly edited and managed to make us laugh and cry at the same time! Worth every penny and really has made our wedding experience complete.  We would strongly recommend everyone to use Cut Above Productions ahead of any other videographer… PERFECTION!"