Emma and Tom's Hever Church and Penshurst Place wedding in May of last year was such a pretty wedding with lots of lovely traditional features.  I knew that Emma wanted pretty spring flowers and spring colours in her images but when we visited Penshurst two weeks before the big day, spring had certainly not sprung!  Not to be deterred I went back the day before their wedding to take another look and was so happy to find pockets of beautiful pink blossom on trees in the nut garden and white blossom in the orchard.  In those two weeks the gardens had really started to come alive.
The big day dawned to lovely warm sunshine which was exactly how it stayed all day.  Emma and her family were getting ready at Hoath House, an Edwardian Manor close to Chiddingstone in Kent, along with members of Emma's extended family who had travelled all the way from Australia.  I wasn't photographing the bride until she was dressed so took some time to photograph the details and the very cute flower girls in the gardens.  The girls dresses were from Sue Hill Childrenswear in Tunbridge Wells.
Emma looked stunning in her Judy Mott Bridal gown and I was delighted to have some time for some beautiful bridal shots with her both indoors and outside amongst the pretty pink blossom which was in full bloom at Hoath, before she headed off to her ceremony.
HEVER CHURCH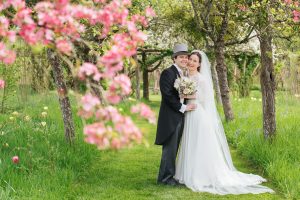 Emma arrived at St Peters Church in Hever driven in a gorgeous 1929 Rolls Royce Barker Limousine by Nick of The Ashdown Classic Wedding Car Collection.  The beautiful floral arch and lych gate arrangements at Hever Church were created by Lara of Darling and Wild.  After the ceremony the couple headed outside into the sunshine to greet their guests and then after confetti headed off in the Rolls Royce to Penshurst to swop wheels for hooves.
The day was filmed by Cut Above Productions and it was lovely to work alongside Carol and Paul again.
PENSHURST PLACE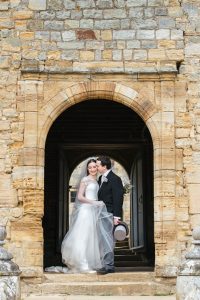 The immediate families and bridesmaids arrived in vintage style at Penshurst in a Asquith Mascot Bus called 'Mrs Jones' from Bowfield Wedding Cars and soon after the bride and groom arrived pulled in horse drawn splendour by Tommie and Charlie from the Horse Drawn Carriage Company.  The day was managed expertly by Toastmaster John Oakley from arrival at Penshurst.  Emma and Tom and their guests headed into the courtyard to some beautiful music from harpist Ellen Smith and then John took the couple to the Sunderland Room to see their reception room before the guests arrived.  The tables were dressed beautifully with bowls of fresh pink tulips and little jars of honey with vintage spoons created by the bride. (The bride had also made the table plan and the floral frame).
The drinks reception was held in the courtyard and while guests caught up with each other Emma and Tom took some time out together in the gardens for some photographs.  They were very generous with their time and I was able to get some stunning shots of them together in various parts of the gardens.
After their wedding breakfast the cake was cut and the guests headed into the Barons Hall for the big group shot.  Emma and Tom danced a beautiful waltz to the music of the Penshurst String Quartet and then they changed into going away outfits.  Their guests formed a farewell ring so they were able to say goodbye to everyone before they walked through a bubble confetti line to the car to take them to their honeymoon and the end to a perfect day.
This lovely wedding was featured in Kent Life Magazine in October of last year and I was also delighted that Penshurst Place used one of the pretty pink images in their new wedding brochure!
To view more of Penny's images please click on http://clients.pennyyoungphotography.com/emmaandtom-heverchurchandpenshurstplace/